Getting Started -The Requirements

To become a driving instructor you must fulfil the following requirements set down by the Driving Standards Agency (DSA):
Hold a British or Northern Ireland car driving licence or hold a European Union (EU)/ European Economic Area (EEA) licence
Have held that licence for a total of four years out of the past six years prior to entering the Register after qualifying. A foreign driving licence or provisional licence held after passing the driving test all count towards the four years
Have not been disqualified from driving at any time in the four years prior to applying to enter the Register
Be a fit and proper person to have your name entered in the register
Are prepared to accept that all convictions, including motoring offences, still in force (i.e., not spent under the Rehabilitation of Offenders Act 1974) will be taken into account when your suitability is assessed
You must be able to read, in good daylight, a number plate at a distance of 27.5 meters (90 feet). This can be with or without the aid of glasses or contact lenses.
Pass the qualifying examination.
The qualifying examination
The qualifying examination is in three parts. You must pass each of the qualifying examinations before going on to the next part. The parts are: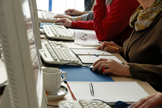 Part One: You must answer 100 on-screen multiple-choice questions. This test lasts 90 minutes and requires a pass mark of 85%. There is also a 15-minute hazard perception test for which you will need to score 57 out of a maximum of 75 marks to pass. You can make as many attempts as you need to pass. Passing this test triggers the start of a maximum two-year period to succeed at Parts Two and Three.
Part Two: This consists of an eyesight test and a one-hour driving examination to test your ability to be able to drive to a very high standard. Six minor errors are allowed but one serious or dangerous fault will result in failure. Only three attempts are permitted. After passing this stage you can apply for a pink "trainee licence".
The trainee licence system
A trainee licence gives you the opportunity to receive payment for lessons while gaining practical experience. A training school is allowed a maximum ratio of one trainee for each qualified ADI. This practical experience can help you prepare for the Part Three test. A "trainee licence" is normally only granted once and lasts for a period of six months. A trainee licence is only available after 40 hours of training with a school like Britannia.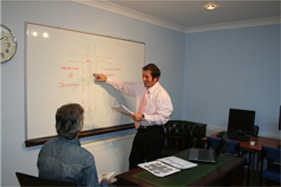 Part Three: This is a one-hour test of your instructional ability during which you will instruct the examiner as if he or she is a pupil. In Phase 1 (first 30 minutes) the examiner will play the part of a pupil that is a beginner or partly trained. In Phase 2, the examiner will play the part of a pupil at the trained stage – around driving test standard. You have to be successful in both Phases in order to pass this test. Only three attempts are permitted. If you are successful you can then apply for a green (full) licence, which will need to be renewed every four years.