Part One: Tuition will cover all subjects listed in the Driving Standards Agency's (DSA) syllabus. Our Course consists of 25 hours of one-to-one classroom tuition with a trainer, together with mock exams and periods of home study and revision. Course study material in the form of books and DVDs will be provided
Part Two: You receive on the road driver training of 12 hours on a one-to-one basis – and after a one hour assessment for which you will be given a report. Prior to your exam a mock test will be given to ensure you are ready for the test. Britannia provides a suitable fully insured motorcar for the in-car training.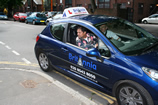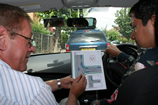 Part Three:You Receive 40 hours of in-car and classroom training on a one-to-one basis on instructional techniques and practice. As in Part Two, you will be given a mock test to ensure you are ready for the test and you will be provided with a motorcar for the in-car training.
After passing Part Two: Trainees will be given the unique opportunity to apply to the DSA for a pink "trainee licence" through Britannia Driving School. A trainee licence gives you the opportunity to receive payment for lessons while gaining valuable work experience. This practical experience will help you prepare for the Part Three Test. Britannia trainees can be on the road in less than 12 weeks and earn up to £600 a week. A trainee licence is only available after 40 hours of training with a trading school such as Britannia Driving School.

Pre-work induction: Before going on the road as a trainee instructor, you will be given a two day induction course to familiarise you with the operation of our driving school. This will include diary management, customer care, marketing, booking, administration, location of test centres, test routes and much more…
Invest in your future: Investment in our driving instructor-training course will amount to less than your first four weeks turnover as a driving instructor with us. Ask any of our 90 driving instructors!!!
Training with us does not mean you are obliged to work for us or any other driving school. We can help you to set up on your own if you wish!
Payment Options – Get Your Fees Back!
Option One – Full Course (Form 1st March 2014 for a limited period only)
Invest in the complete package for one off payment of £1,795
By choosing this option, you will be entitled to get a refund of £1,795 subject to terms, condition and contract. This means your training will have been free plus you will have a superb career.
Option Two – Pay as you go
This Option allows you to pay monthly for the course at £150 per month for 12 months
Please note that the following DSA fees are not included:
-Part One (theory test) £90
-Part Two (test of driving ability) £111
-Part Three (test of ability to instruct) £111
-Trainee's licence (valid for 6 months) £140
Part Three training only is offered to those who have already passed the first two tests elsewhere, but find they are not receiving a high enough standard of training to enable them to pass this more difficult test.
Qualified instructor re-training is also available to ADIs who wish to improve their grade of instruction.
Your next step is to contact us by email, chat online or call us on 0800 252 692
0800 252 692 and arrange to see our Director of Recruitment who will assess your suitability and answer all your questions about becoming a driving instructor, without any obligation to take the course.