The Highways England has made a promise to suspend 400 miles of roadworks for the Easter Weekend. Approximately 459 miles of existing roadworks will be cleared away for between Thursday 18th April at 6am and 12.01 Tuesday 23rd April, this means 99% of England's main roads and Motorways will be free of roadworks over the Easter bank holiday weekend.
The Highways England's traffic Officers will still be on hand to help motorists who unfortunately are involved in an accident or have broken down, the officers are in black and yellow batten burg marked vehicles.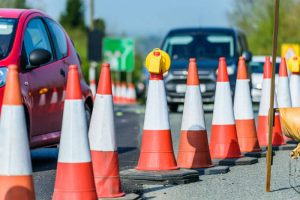 Advice issued by the organisation are to take the time for basic checks on your vehicle, this will help yourself and other road users avoiding a cause of issues for traffic for the weekend.
These following checks will help to avoid unnecessary breakdowns
Check your fuel, tyre pressure and condition, windscreen fluid, lights and the engine oil.
Familiarise yourself with motorway signs, the overhead gantries will display a large red X if for any reason a lane is needed to be closed.
Remember driving in a lane showing a red X is not only dangerous but illegal, It not only carries up to a £100 penalty charge but also 3 points on your license.
Also, the Highways England have also recommended that people towing caravans or trailers have the correct licenses and equipment and are correctly connected and with the relevant insurance.
Highways England's customer service director Melanie Clarke said: "We're doing everything we can to make journeys as smooth as possible this Easter and that's why we're keeping around 99 per cent of the road network we manage free from roadworks," she said. "Safety is our top priority and we know from experience that almost half of breakdowns can easily be avoided if motorists carry out simple vehicle checks before setting off over this period."
Simon Bush of Britannia Instructor Training College said: "The Highway Department is doing all it can to ensure the roads run as smoothly as possible, it's our duty to help them by keeping congestion to a minimum."
Happy and safe Easter Driving from all at Britannia Driving School!