BRITS tiring of lockdown have hit the roads this week – with the AA seeing a 10 per cent rise in journeys since the start of restrictions. As the UK heads towards  the fifth week of full coronavirus lockdown more people have been seen struggling to stick to the rules.
As Brits were first easing into lockdown our  major roads were mostly empty, but now as the restrictions carry on with no end date in sight there are more cars out and about.
Edmund King, AA president said: "The majority of drivers are still following Government advice to only make essential journeys by car, however, this week we have seen traffic and breakdowns creeping back up. "It is a worry that some drivers seem to have got bored being locked up at home and are now venturing out in their cars.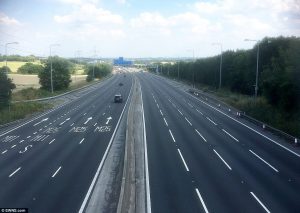 "Breakdowns have increased by about 20 per cent this week and traffic seems to be 10 per cent  higher than under earlier lockdown conditions. "It is important to cut out non-essential travel as one crash can tie up the emergency services for hours and may also result in a precious NHS hospital bed being taken. The message is still to stay home and help to save lives."
Shoppers have been seen heading to DIY stores as cooped up Brits relax to the rules. This morning MP Brandon Lewis told of his fears people will be struggling to stick to the lockdown after so many weeks inside.
He said: "I think there is always a risk when you are doing something like this, particularly those living alone, will be finding it really difficult. "We've got to look at the success we've had in flattening that curve. We've lost too many lives already. "When you follow the guidelines, when you stay home, you are doing something directly personally that is not just helping the NHS, but saving lives."
The warm and sunny weather has made  the corona virus lockdown even harder for Brits, with the forecast to be hotter than Lanzerote today and tomorrow.  Its bringing fears the high temperature will be too tempting for some as the the weekend comes at the end of five very long weeks being stuck at home .
As the death toll hit 18,000 yesterday, Hyde Park in London was packed with young Brits exercising, while a group of paramedics were seen enjoying a well-deserved break in the sunshine.
In the government press conference, it was announced that traffic on Britain's roads is beginning to increase during lockdown. Graphs show all motor vehicle traffic spike since yesterday – the first significant rise since April 14.