London motorists have hit back against an influx of barriers that enforce road closures and traffic diversions in certain neighbourhoods.
In Ealing, frustrated drivers overturned heavy wooden planters – even daubing them with the words: 'abuse of power'.
Other disgruntled locals have resorted to pouring oil on spaces left for bikes to pass through, making riding conditions unsafe for cyclists.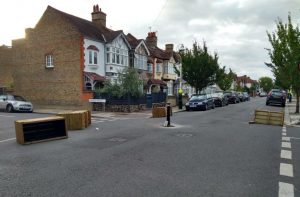 In the past four months, 200 locations have been earmarked for a "cost-effective way of delivering safe and attractive streets for walking and cycling" – with 141 of the zones found in London.
Fears are growing that the sudden installation of low-traffic neighbourhood (LTN) schemes during the coronavirus pandemic are inciting ill-feeling between local residents.
Protests have been held in Ealing, Wandsworth and Islington, with residents in Hackney set to follow suit. Meanwhile, petitions demanding the removal of LTN schemes have attracted hundreds of signatures.
Giulio Ferrini from walking and cycling charity Sustrans said: "Lots of people understandably don't want to travel on buses and trains during a pandemic so there's a real risk those with cars will just drive more, causing gridlock and adding to dangerous levels of pollution, unless councils provide viable alternatives by making walking and cycling safer. This is what low-traffic neighbourhoods can do."
Claire Holland, Labour deputy leader at Lambeth Council said: "It is a culture war between those who want to drive wherever they want, whenever they want, at whatever speed they want – compared to the right of everybody else to get around peacefully and effectively."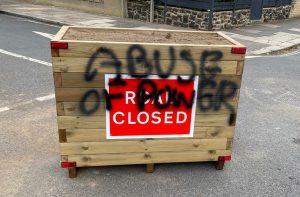 Residents involved in the One Oval group, which protested against a local LTN scheme, argue that the roadblocks displace traffic to less prosperous areas with already heavily-polluted roads.
Sam Cooray, who lives on the border of a LTN, says advocates of the scheme "are not representative of working classes, of BME communities, of the disabled, of local businesses."
People on both sides of the argument claim they have been bullied and intimidated online as tensions continue to escalate.
RAC head of roads policy Nicholas Lyes said:
"Nobody can deny that low traffic neighbourhoods are well-intentioned and there are doubtless some well-designed schemes which have widespread local support due to the valuable benefits they are delivering. Unfortunately, it also seems there some schemes that aren't working well and are causing problems for residents, drivers and businesses.
"Rather than just ignoring these issues, authorities should be willing to listen to everyone affected and make changes to rectify them. Councils should also be actively looking at impact assessments and monitoring all schemes to ensure that unintended consequences – such as increased congestion and displaced traffic, worse journey times, increased difficulty for delivery drivers doing their jobs and access problems for emergency vehicles – are properly understood and avoided.
"The fact that the Goverment gave authorities just weeks to introduce schemes  for the reallocation of road space is a reason why some schemes aren't working. Councils were told they did not need to consult – yet if they didn't take the cash on offer, they risked missing out on it altogether."
"As the lockdown has eased, councils now have an opportunity to consult properly and we believe the Government should require that they do so for new schemes. This is important so local authorities can understand the impact that schemes will have on all road users and residents, and can improve the design of any new scheme accordingly.
"We know that safety concerns remain a barrier to getting people out of their vehicles and on to two wheels so there's also an argument for local authorities to look at spending some of this money on areas which cause the greatest safety hazards for cyclists, namely junctions and roundabouts. By tackling these, more drivers may be encouraged to use bicycles for some of their shorter journeys.
"Councils should also be considering how they can reduce through-traffic into towns and cities. We believe there's an urgent case for creating more park and ride-type facilities, potentially taking advantage of not just buses but cycling, walking and scooting. Electric bicycles, and if fully legalised electric scooters should also be offered at such facilities to maximise options for those open to using such schemes.
"Managing road space is an extremely difficult job for urban planners, but in order to bring about lasting benefits for all, it's essential any changes take proper account of the needs of residents, businesses and road users."
Modelling by King's College London on the UK's first LTN which started in 2014, found the scheme has boosted life expectancy and air quality, without pushing up pollution on main roads.
Do you live near an LTN or similar traffic diversion sceme? Share your experiences in the comments below.