When you are taking regular driving lessons with an instructor who is fully covered by the correct insurance, you may be enthusiastic to continue practicing in between lessons with a family member or a friend. This will give you a chance to practice what you would have learnt on the previous lesson and help build your confidence for when you pass your driving test and are able to go out alone and drive without an instructor with dual controls.The Supervising Driver must: Be at least 21 years old. Have a full driving licence (for the type of vehicle being used – manual or automatic) Have held that valid licence for a minimum of three years.
It is a legal requirement that you have learner driver insurance to cover   you if you did have any bumps or scrapes you and the driver are fully covered. It is also a legal requirement to have 'L' plates on the front and back of the vehicle Failure to display an L plate, or an L plate that is the incorrect size, can result in you receiving up to six penalty points on your driving licence. This is so other road users are aware that you are a learner, this not only helps other drivers be aware that you may need extra time or for them to be patient. It also shows to pedestrians that you are an inexperienced driver.
By law, an L plate must be a red letter on a white background and the size outlined in the diagram below: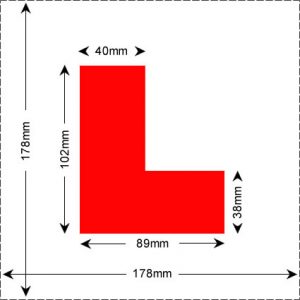 L plates must be displayed at all times when you are driving.
Learner driver insurance sits alongside the car owner's existing policy, so if you needed to make a claim, it wouldn't affect the owner's no-claims discount (NCD). However, if you decide to be added to the owner's existing car insurance policy and have to make a claim, they'll lose their NCD.Alternatively, if you have your own car, you can take out provisional driver insurance and add a family member or spouse as a named driver. This will enable you to build up your own NCD.If you're only driving during lessons with an approved instructor in a vehicle they own, they'll usually sort out the insurance which is then included in the price of your driving lessons.
When practising outside of lessons, it's essential to focus on the areas that you find challenging. This could be anything from manoeuvres such as parallel parking, to navigating roundabouts or driving on motorways (although motorway driving won't be part of your test, it will nonetheless be a big part of your future driving). Practising on different types of roads, in different weather conditions and at different times of the day will also help you gain a broader range of experience and prepare you for any eventuality on the road.
If you're practising outside of lessons, it's essential to have learner driver insurance to cover your practice. Temporary learner driver insurance is designed to cover learner drivers who want to practise in someone else's car. This type of insurance allows you to practise in a family member or friend's car without the need to be added to their policy. This means that you can practise in a car that you're comfortable driving, without having to purchase a new car or be restricted to practising in your driving instructor's car.
Temporary learner driver insurance is typically available for short periods, usually ranging from an hour to several weeks. This makes it ideal for learners who want to practise in a car for a specific period, such as during school holidays, or for those who are approaching their driving test and want to get some additional practice in.
To get learner driver insurance, you'll need to provide some basic details, including your name, address, age, and the registration number of the car you'll be driving. Once you've paid for the insurance, you'll receive a policy document via email that you can present to the car owner or the police if required.