LEARNER drivers in England are able to take their tests again from today – but it won't be the same as before. Driving tests were suspended in March at the start of lockdown to help stop the spread of the deadly covid 19.
Lessons and theory tests were allowed to restart in England from July 4th but learner drivers have been forced to wait two more weeks to take their practical. Easing lockdown measures is a matter for devolved governments so car practical tests won't go ahead in Wales until August 17.
Dates for when tests can start again in Scotland and Northern Ireland haven't been confirmed yet.
Those who had their tests cancelled due to lockdown will be prioritised to clear a backlog of Brits waiting to get their licences.
New bookings are taking a back seat for now and the government hasn't said when it will start taking new bookings again. The Driver and Vehicle Standards Agency (DVSA) sent emails to learner drivers who had their tests postponed on July 16 asking them to rearrange their exams
Unfortunately, you'll have to take your theory test again before rebooking your practical exam if it expired during lockdown.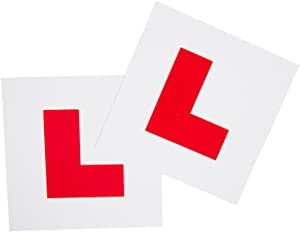 DVSA chief driving examiner Mark Winn said: "I know many learners are keen to take their driving test but it is vital they have the right skills and knowledge to help them through a lifetime of safe driving before attempting it. "Learners should practice driving on a variety of roads and in different driving conditions so they are well prepared for driving independently."
Like pubs and shops, driving centres have to make some changes to the way they carry out tests to make them Covid- 19 secure.
1. You will have to wear a face mask
Drivers and examiners will have to wear a face mask when they take their tests.
If you cant wear one, for example you suffer from asthma, then you should let the test centre know as soon as possible.
Some examiners can choose to wear gloves and use disposable seat covers as well.
You may be asked to remove your face covering briefly so that the examiner can check your ID.
You should also make sure you have one that fits correctly. The examiner will ask you to pull over if you need to adjust it.
If it becomes a safety issue, the examiner will end your test early.
2. You will find out midway through your test if you've failed
Normally, drivers have to wait until the end of their test to find out whether or not they had passed.
But now, those who commit a serious offence early on will find out immediately if they have failed.
They will immediately be directed back to the test centre to minimise the amount of time they spend in the vehicle.
Learners should carry on with the test if they make a minor mistake.
3. The car must be cleaned before your test
You must make sure the car has been cleaned before the instructor is allowed in the vehicle with you.
The examiner will also need to use an antiviral wipe to clean the passenger door and anything else they will need to touch inside the car.
5. Driving instructors can't sit in the car during your test
To minimise the number of people in the car at the same time, driving instructors are not allowed to sit in the back seat while you take your test.
This is part of the new social distancing measures introduced at driving test centres.
6. You'll be asked to get out of the car to get your results
To minimise the amount of time that you spend in the car, you and the examiner will need to step out of the vehicle while you get your results.
You will also be asked whether or not you'd like your instructor to join you while you hear the feedback.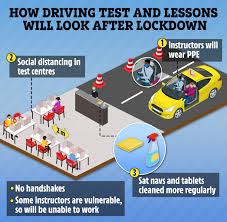 7. Don't come for your test if you've got coronavirus symptoms
You must not go for your drivers test if you or a member of your household have coronavirus symptoms.
If you've been contacted by NHS Test and Trace, you also shouldn't go to the test centre.
If you get ill, you can change the time and date of your driving test free of charge, even if you do this at short notice, within three working days of your test.