The coronavirus, once an "aggressive tiger" of a disease, has weakened and become more like a wild cat, according to a top Italian doctor.  Professor Matteo Bassett said he is convinced the virus is changing in severity" and patients are now surviving infections that would have killed them before.  And if the virus's weakening is true, covid – 19 could even disappear without a vaccine by becoming so weak it dies on its own, he claimed.
Notwithstanding, when lessons and tests resume, learners' drivers face new measures to help protect them, their instructors, and examiners from the spread of coronavirus.  Test centers will be issuing examiners with personal protective equipment (PPE) including gloves and face masks and they will be given training on cleaning equipment such as sat navs and tablets. You should also expect social distance measures to be in place at test centers.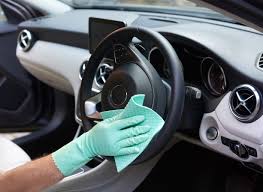 Britannia Driving School will also be providing instructors with PPE and will mandate instructors to thoroughly clean all touch points on their car between lessons.  Also, Instructors will ask all our customers to declare that they are symptom free before they step inside the car.
For Now, we cannot book a new driving test and when booking resumes drivers with a previous test date will be given priority.  Britannia Driving School is aiming for July 6 as a provisional date for when driving lessons can resume.  Obviously, pupils and our driving instructors will require the ability to plan; previously 'test ready' pupils without lessons for up to 3 months will require at least a couple of lessons prior to their driving test
In a world where we are not all able to pile onto public transport, being able to drive is a lifeline many wish they had.  Hopefully, it will not be much longer before our instructors are able to provide their vital service to enable people to get about independently.
There is no doubt that Britannia Driving School has an important role to play in the weeks and months ahead to get pupils ready for their driving test safely and quickly. We have the commitment and the capacity to continue to support our instructors and pupils.