A TRANSPORT-mad six-year-old boy can recite the entire Highway Code from memory.
And Nathan Henry-McGhie is even teaching his mum Peta to pass her driving test.
The lad began studying the152 page road users guide just six months ago when he found it lying around his home.
Now Nathan can recognise every road and traffic sign, knows the names of each bit of legislation and can recount each section word for word.
Construction management student Peta, 30, said: "He became obsessed with the book.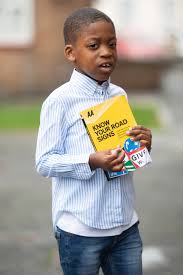 "I have my driving theory in December so he tests me on sections. The thing is that he entirely taught himself to read it."
His memory of the driving bible has become so refined he has even instructed a taxi driver on the rules of the road.
Nathan, who was diagnosed with autism in February last year, has a photographic memory and an interest in transport.
He can also name all the stops on the London Underground.
Peta, from Welling in the capital's South East, added: "His memory is just so impressive. I'm super proud of him.
"When he was two, he could count from one to 100 — he could be the next Albert Einstein."
For those of us who need help with their road signs we offer help on our website.