A disabled war veteran driving instructor said he has been repeatedly forced to sit outside during wet and windy weather because of the closure of test centre waiting rooms.
"All instructors now have to sit or stand, outside, for up to 40 minutes while tests take place," he said.
The Driver and Vehicle Standards Agency said it was reviewing the situation.
Mr Small was medically discharged from the army in 2010 and has rheumatoid arthritis.
He served in the Gulf War, completed two tours of Bosnia and was awarded the Royal Warrant in 2005.
He said he could not stand for long periods so when pupils have been taking their tests, he would be sitting in the car park in a camping chair, holding an umbrella.
"The inclement weather conditions will only deteriorate over the coming months," he said. "There is no cover.
"A number of instructors have underlying health issues which will be made worse.
"This will lead to many experiencing a physical and financial difficulty because they'll become ill and need time off to recover.
"Now a tiered lockdown has been introduced across the country, surely test centre waiting rooms should be reopened using a similar approach?"
He said it was ridiculous to have a blanket closure when "some areas of the country are at lower risk than others".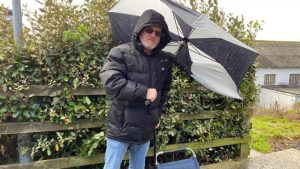 Mr Small said he wanted the DVSA to look at waiting rooms based on the size of the test centre.
"We have five examiners covering Bodmin and can maintain social distancing guidelines with no difficulty," he said.
"The examiners can sit in our cars, inches from strangers, but we're not allowed to be in a waiting room that can accommodate us with social distancing."
The DVSA said it was working with the Health and Safety Executive and driving instructor associations to "review our centres".
"We are initially reopening nine waiting rooms and to ensure everyone's safety we will review the measures we put in place and get feedback from staff and our waiting room visitors before we open anymore," it added.
Bodmin test centre is not one of the nine. Our automatic instructor Jane has said its very difficult in some of these treacherous weather conditions if there is no cafe nearby, to seek shelter with a warm drink.